March 24, 2022
Updated February 23, 2023
All the Ways You Can Get PT at Home
by JayDee Vykoukal, PT, DPT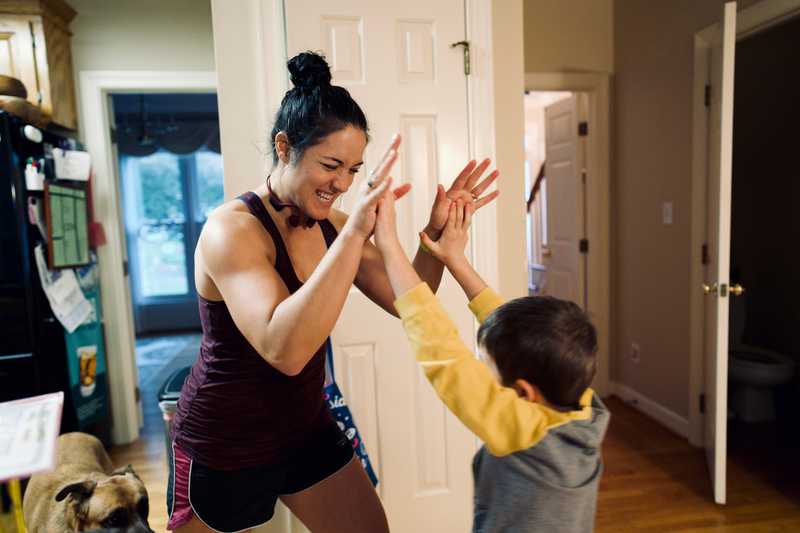 About the Author
JayDee Vykoukal is an author, holistic health coach, mom blogger, and passionate Doctor of Physical Therapy. She loves teaching healthy living, writing about motherhood, traveling and spending quality time with her family.
Introduction
What if I told you there were ways to get physical therapy (PT) without leaving your home?
In this article, we will discuss the three different types of PT at home. These include traditional home health, online/virtual PT, and house call PT. Understanding the nuances between these can help you or a loved one get the care you need without worrying about accessibility or which one is the right choice.
It's no secret that traditional physical therapy in a clinic can be expensive due to ambiguous billing guidelines (aka unclear insurance coverage). Plus, scheduling regular appointments can often feel inconvenient, or even overwhelming. If you live in a rural area, have a busy work schedule, or don't have access to transportation, it can be difficult to get the care you need.
Keep reading to learn more about all the ways to get PT in the comfort of your own home. You'll be surprised at how many people can truly benefit from it!
Table of Contents
What is Home Health PT?
Home health PT is a form of traditional physical therapy that takes place in the patient's home. A therapist will visit your house and provide care, which often includes exercises, extensive education, and pain management. Home health PT is utilized for patients who are unable to leave their homes due to illness or injury.
Who Qualifies for Home Health?
To qualify for insurance coverage of home health, an individual must be considered homebound. Typically, home health care is recommended for a patient under direct physician care that has been in the hospital or skilled nursing home due to an illness that has reduced their level of function. If skilled intermittent treatment from a professional team is needed to help with recovery or short-term maintenance, home services will be covered by most insurance companies, including Medicare.1 This team usually includes a nurse, speech pathologist, occupational therapist, and/or physical therapist.
What is Virtual PT/Telehealth PT?
Virtual or telehealth PT is a form of home physical therapy where the therapy session can done via video call, phone call, or even email or chat. While telemedicine has been around since the 1960s as a means to remotely treat astronauts,2 it has exploded in demand from the general public as a result of pandemic restrictions and lockdowns. A growing body of literature illustrates the potential benefits of virtual PT. In fact, research shows that virtual physical therapy is effective and comparable to traditional physical therapy services in a clinic in many instances.
Just like physical therapy sessions that take place in a private clinic, this type of at-home PT will involve an in-depth evaluation, treatment plan, and subsequent scheduled sessions as needed to achieve desired results. You can expect to be held accountable, get extensive education and support, and work with your physical therapist to reach your personalized functional goals.
Who Qualifies for Online PT?
Everyone! Anybody with a computer or phone and internet connection can qualify for online physical therapy. This type of therapy is perfect for those who are unable to leave their homes, have transportation difficulties, or live in rural areas. It's also great for busy professionals who have difficulty making time for traditional appointments.
Every state in the United States now allows some form of direct access, which means you don't need a doctor's referral to see a physical therapist. You can seek care directly from a physical therapist for an evaluation and care, which can save you time, money, and suffering. For common issues like low back pain, research illustrates the quality of life and cost advantages of seeing a physical therapist first.3 Although some limitations do apply depending on the state and coverage, so it's important to double-check what's allowed.
When is Virtual PT Indicated?
You may be surprised to know extensive types of injuries and other health-related issues virtual home physical therapy can help address. These include:
While it may seem that "hands-on" rehab or specialized equipment is needed for some of these common issues, the benefits of consistent and quick care can quickly outweigh the perks of going to a clinic in many cases. The effectiveness of telehealth physical therapy also demonstrates the immense power of accountability when it comes to optimal recovery.
What is House Call PT?
House call PT is when a licensed physical therapist comes to your house to provide care. Think of it as a version of home physical therapy, with a twist. Instead of being focused on those who are unable to leave their homes, house call PT is for anyone who desires the convenience of receiving quality care in the comfort of their own home.
Who Qualifies for House Call PT?
Just like online physical therapy, a visit from a house call physical therapist is for anyone who wants it! There are no restrictions on who can receive house call physical therapy. Whether you're a young professional with a hectic schedule or a retiree who wants to avoid the hustle and bustle of a clinic, house-call physical therapy could be a solution for you.
Which Type of Home Therapy is Right for Me?
Now that you know a little more about the different types of home physical therapy, you may be wondering which one is right for you.
If you're unable to leave their home due to injury or illness
Traditional home physical therapy may be a good fit. This usually involves scheduled visits from a licensed physical therapist in your home to help you improve your functional independence and return to living life as usual.
If you're looking for more convenience and flexibility
Online physical therapy may be a better option. With no need to leave your house or take time off work, this type of therapy is a great choice for almost everyone. It's for those who want to get high-quality treatment as soon as possible, finally get the help they've been putting off, or anything in between.
Although house call physical therapy is often referred to as "on-demand" PT, virtual telemedicine is the true equivalent of on-demand therapy since a physical therapist can be seen immediately instead of having to wait a day or more.
If you suspect (or know) you need hands-on therapy treatment or specialized equipment in your plan of care, but don't want to go to a clinic
A house call physical therapist may be the right choice for you. With one-on-one care in the comfort of your own home, this type of therapy is perfect for those who want to avoid the hassle of leaving their house and dealing with crowds.
Or, you may consider a hybrid approach to your therapy
For example, maybe you need intermittent in-clinic or house call physical therapy to supplement your online visits. The advantage of this approach is that you can get any one-on-one services you need while still being held consistently accountable with consistent virtual visits. More clinics and therapists are starting to offer this convenient and flexible approach, including our CityPT therapists.
But Don't I Need Hands-on Treatment?
Many people associate physical therapy with a massage. However, that is a misconception. The true magic of physical therapy comes from empowerment. When you understand what is happening in your body (and mind) and how to manage it, you can start taking sustainable steps to recovery that help you thrive. This is the real reason why virtual PT is often just as effective as visiting a private clinic!
Which Options Are Covered by My Insurance?
Most private insurance plans cover traditional home physical therapy, as long as you have a doctor's referral. This means that if you're unable to leave your home due to health-related issues, your company (such as Medicare) may foot the bill for your in-home physical therapy visits. Home health service and home physical therapy is most often initiated after a change in health that requires a patient to be checked into the hospital for treatment or monitoring.
Virtual physical therapy can be a bit more complicated when it comes to coverage. However, coverage is rapidly changing secondary to the pandemic. Thus, many insurance companies and states now fully reimburse telemedicine care from a licensed physical therapist.
House call physical therapy is essentially covered under the same umbrella as in-clinic PT. Thus, if your insurance covers care from traditional physical therapy it will cover a home visit as well. However, it is relatively common to encounter PT treatments that are only partially covered, extensive co-pays, or deductibles that first need to be met.
What If I Can't Afford Insurance (or PT)?
There are a few options available if you don't have insurance or if it doesn't cover physical therapy services.
First, many physical therapists offer cash-based services to their patients, which means they pay out of pocket for their visits. This type of payment is often more affordable than you might think. You'll know exactly how much it'll cost up front and it allows you to receive the quality care you need without having to worry about insurance coverage.
Second, there are a few physical therapists that offer sliding-scale fees for patients, which means they pay based on their income. This type of payment is often available for patients who are experiencing financial hardship or who do not have insurance coverage.
Finally, there are a few government-funded programs that may be able to help you pay for seeing a physical therapist. One example is Medicaid, which offers patient coverage for a variety of health services, including physical therapy. To see if you qualify for Medicaid or another gov-funded program, visit the government's health insurance website and use the benefits finder tool.
Why Can't I Just Do Self-PT at Home?
While it may be tempting to treat yourself at home (aka DIY physical therapy), it's important to tread cautiously. Many people who try to do self-PT could end up doing more harm than good and often wind up needing to see a physical therapist anyway.
If you're considering self-PT, the best thing you can do is talk to your primary care provider, sports medicine doctor, or licensed physical therapist first. They will be able to give you specific exercises and education that are tailored to your individual needs and help you avoid any potential injuries.
Getting Started with Physical Therapy At Home
If you or a loved one need physical therapy, whether it's for an injury, prevention, or decline in your overall health, you have a lot of great options to consider. CityPT is dedicated to offering you the care and services you need as soon as possible with no ambiguity. You will know exactly what each visit costs, work with some of the best physical therapists in the market, and get back to the life you love in full force.
Ready to discover the benefits of home physical therapy? Book an appointment now with one of our expert CityPT physical therapists.
Before you go, please read our disclaimer. This blog is intended for informational purposes only. We are not providing legal or medical advice and this blog does not create a provider-patient relationship. Do not rely on our blog (or any blog) for medical information. Always seek the help of a qualified medical professional who has assessed you and understands your condition.
References
About the Author
JayDee Vykoukal is an author, holistic health coach, mom blogger, and passionate Doctor of Physical Therapy. She loves teaching healthy living, writing about motherhood, traveling and spending quality time with her family.